Junior Member
Registered Member
Rumors say that a number of Anka's (6) will be exported to Kazachstan.
It's 3 Anka's:
Export of 3 ANKA UAVs from TAI to Kazakhstan.
Turkish Aerospace Industries Inc. (TUSAŞ) exported the first national, original and locally designed platform aircraft to Tunisia in December last year with the sale of 3 ANKA UAV systems. Recently, TAI made its second ANKA export to Kazakhstan. Negotiations between Kazarnaulyexport (Kazspecexport) and TAI, which have been going on for a long time, were completed and signatures were signed last October. Now, 3 ANKA UAV systems will serve in the Kazakhstan Armed Forces in their ancestral homeland.
Negotiations continue with many countries for the export of ANKA UAV system. It is even stated that some of them have reached the final stage.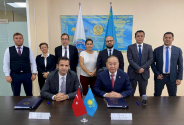 Edit: Well it is 3 'systems' so it could be 6 UAV's with 3 control stations. Time will tell.
Last edited: