Captain
Registered Member
I'm going to post certain things (in the light of Nagaland India conflict). It is quite important because i noticed comments under Youtube videos
with commenters pointing out certain incidents that have no Wikipedia entries. I don't think there are much evidences towards the veracity of these incidents so it's upto members here and their rationale. Those who disagree may supply counter evidences. I'm saying this as the websites seem to be a concern that is supportive or sympathizer of the naga cause.
1.
The Mokokchung Incident: 27th December, 1994

​ Initially, it was supposedly an exchange of gunfire between Naga underground cadres and the Indian Army. However, as the gunfire prolonged, the story appeared to be more than just an exchange of fire between the two sides. Following this, the 16 Maratha Light Infantry (MLI) of the Indian Army carried out an appalling act of atrocity which was unmistakably and systematically engineered. This crime of genocide committed by the Indian armed forces caused untold suffering to the Naga civil population, which left 89 shops, 48 houses, 17 vehicles and 7 two wheelers razed to ashes, excluding those destroyed by gunfire and shelling. 7 civilians were gunned down, another 5 burned alive including a child, and more than a dozen gone missing.
As the shooting started, the army cordoned off the civilians who were in and around the main shopping area of the town, near the main traffic point. While the women and children were made to crawl towards the open space of the traffic island, men folk were systematically tortured. Several cases of rape were also reported. Earlier, the telephones in the town had all been mysteriously dead from around seven in the morning. None suspected it to be a case of sabotage for the mayhem, which was out of human imagination that was to follow a few hours later. Sections of the local intelligentsia believed that this heinous action of the Indian Army was systematically premeditated, as this 'mission' was conducted immediately following the Indian Army Chief's visit to Nagaland and the 16 MLI convoying from their cantonment at Changki village located 45 kilometers away from Mokokchung town, ably assisted by the 10 Assam Rifles. Not surprisingly, the Indian media did not do justice to this incident as not an instance of this incident went reported.
Col. Malik, the Commanding officer of the 16 MLI on January 3, 1995 admitted to the public of Mokokchung that they were guilty of their 27th December massacre.

2.

The Yengpang Massacre

Yengpang Village, in Free Nagaland, was attacked on the morning of Monday, November 15th, 1954, by troops from Noklak camp led by Political Officer A and his assistant, C.

The killing lasted for two hours, from five till seven. Political Officer A had been boasting previously that he would show the Nagas that the Indians were the better "head hunters" and he carried out his boast with punctilious accuracy, all the victims were beheaded, some alive, some after being shot and their heads were taken back to Noklak to be photographed. He rewarded his soldiers that night with a feast of looted pork from Yengpang.

Among the stories told by survivors is that concerning Sübonglemla, the cheerful young woman who was the village School mistress. Dragged on the ground by her long and beautiful hair, which was four feet long when loosen, she begged for mercy and wept, but killers scalped her while she was still alive and then cut her head off. Political Officer A took the scalp. Afterwards he was heard to say that he would plait her hair into a "holy thread" and keep it for luck. Sübonglemla's husband and their two sons, one five years and the other seven months old, were all slaughtered too.

Yengpang's houses and grain‑stores were destroyed, and its possessions looted.The Indians left their headless bodies unburied and the women's bodies disgustingly mutilated):Another 269 people were massacred in their villages in the ensuing year. In Chemong village, Chonimong (aged 33) and Shemshomong (25) were crucified, tortured for several hours, and then finished off by gunfire. Yemghotong (35) had his thigh bored through with a bayonet; a cord was passed through the hole to bind him to a post, and after being halked and flayed, he was soaked with petrol and burned alive. The chief of Longpha village, Ahng Yuwang (60), was shot in his bed, by Indian officers.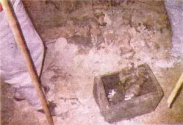 3.​
Pochury Black Day (6th September)​
The NNC leadership, at one of its meeting held at Washelo in May 1960, had resolved to flush the Indians armed force out of Naga territory. To achieve this goal, the Naga Army attacked the 14th Assam Rifle outpost at Thuda (Phor Village) in Pochury area. The attack was undertaken by the Eastern Command 1st Brigade under the command of Major General Zuheto, along with the then 4th Battalion of Pochury region under the command of Lt. Colonel Thorpa.

As the attack continued into the third day, ammunitions on both sides were running short and, on several occasions, the Indian Air Force plane tried to drop relief materials and ammunitions but were prevented by the Naga Army. At the same time the Indian Air Force jet fighter strafe the attacker's position.

An Indian transport plane bearing No. DC-3, HJ233 (Dakota) trying to drop relief materials and ammunitions to the besieged post was shot down by the Naga Army

On 1st September 1960, 6(six) villagers from Phor village were tortured to death.
Again on September 3, 1960 another 3 (three) villagers from Yisi Village were beaten to death, their name are as follows:
Two villagers from Mokie Village also beaten to death their Names are as follows:
Lt. Nyukhrüsüh and Lt. Rhorüpa of Meluri village were beaten severely after which, their heads were chopped off.
Two villages namely Tsiküzo and Küluopfü, were abandoned due to tortures humiliations meted out by the Indian army.
On 6th September 1960, the 16th Punjab regiment posted at Kangjang village reached Matikhrü village around 10 am. The entire village was encircled in three rings and all villagers were ordered to gather in one place. Men-folks were separated from women and children.

All the men were made to keep jumping and sit-ups, for more than 5 hours in the scorching sun, naked. Any signs of tiredness were with kicks and hits with rifle butts. Then just before sun-set, the Indian Army not satisfied with the punishment meted out to the villagers, rounded them up inside the village chief's house and were forced to sit head down like lamb being lead to its slaughter.
Lt. Thah, the then village chief, knowing what was in store for them bravely volunteered to sacrifice. He stood bravely for the Naga cause even to his last breath and said. Then Indian army jawans, holding a blunt dao chopped-off the head of Lt. Pogholo, who was the first in the line.Witnessing the brutality and horror in front of their eyes and knowing that all of them were going to be killed, one of the villagers managed to escape the execution forcefully. Then one after another, heads rolled down, separated from the bodies, and in the event a total of nine lives were lost.
The Indian army did not ever allow the loved ones to perform last rites and rituals for the dead. All the death bodies were dump inside the village chief's house and were burnt down to ashes along with the other houses and granaries.

The women and children who had fled to the jungle to evade the horror and torture of Indian Army came back the next morning to find the whole village burnt down to ashes.

Then the horrified women and children with no means simply covered the death bodies with mud and left for the jungles fearing the Indian army might turn up any time.For days together, the survivors wandered in deep jungle without proper food and shelter. The wild berries and fruits of the jungle were their only food and means of glorious sacrifice made by their menfolk's. In extreme condition of hardships and difficulty, many more precious lives were lost.

The Naga Army then came to their rescue. They were given food, shelter and protection. Even today, the nightmares and tragedy of the incident still remains fresh in the mind of the survivors. In this long dispersion and exodus, the survivors entered Burma and stayed with the Naga Army in their camp at Sathi where Gavin Young of London Observer met them in the later part of 1961.
In his book "Indo-Naga War", he has written in page 29-30 that when he met the survivors; there were only a pathetic thirty people. They spent their life in the wilderness for two and half years. In 1963, village re-establishment took place but normal lives could not be restored for many years.

The people of Pochury then observe 6th September as "BLACK DAY" in memory of all those who suffered and laid down their lives for the greater glory and freedom of the Naga.Iit is a day of sadness and a day to acknowledge the sacrifices made by the martyrs