Captain
Registered Member
A year end summary from Xi'an Aisheng UAV Technology Ltd. (

LQ-302 swarm UCAV

and LQ-303

air-droppable swarm UCAV

, both of which have achieved first flight.
Interesting. How many of them could each Y-9 and each Y-20 carry?
Plus, I suppose this is another incentive for Xi'an and Shaanxi to build more Y-9s and Y-20s!
Speaking of which, the UCAV having a 400-kilometer range would be more than enough to cover pretty much the entirety of Taiwan while flying along the Chinese coastline and be well within coverage of Chinese SAM and land-based fighters.
However, doing the same with the Ryukyu Islands would require the Y-9s and Y-20s to fly above the East China Sea, which entails higher risks and dangers. Either a longer-ranged air-droppable swarm UCAV is needed, or the tasks would have to be handled by sea-based units, or both. For the 2nd option, a Type 22 fast missile boat-like speedcraft and/or a modified small cargo boat/ship oughta do.
– A certain VTOL/regular takeoff dual-mode training aircraft successfully made its maiden flight.
Reminds me of this, though I'm sure that both of them aren't related to each other.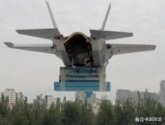 Last edited: