Senior Member
Registered Member
The CEO of TEI had an interview. He said the

We expect the manned test flight of the TEI-TS1400 engine to begin next year. Certification will take 2 years. Entering mass production at the end of 2024.
As TEI, we are in a position to manufacture the engine of the MMU. We can do it in 12-13 years.
The war in Ukraine has not yet affected the factory producing engines in Turkey. But near. Depending on the progress of the war, it may or may not be a problem for us to buy an engine.
He also said:

- Some European companies are hooking our employees on the spot to disband the team.
- They offer abnormal prices, prices that are not available in world markets.
- PD-170 engine is at the integration stage in Bayraktar TB3.
- We made a more powerful engine than the engine in the ATAK helicopter. It reached 1400 horsepower. It passed the tests. We are testing the more powerful ones. Our nation will hear them soon.
Also some specs about the TS1400:
1400 hp continuous power.
1475 hp take off power.
1600 hp single engine emergency power, one of the final steps of the civil engine certification process.
400 hours of testing completed so far.
Compare these stats to the stats given by Prof. Aksit last year: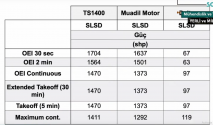 IMO we can see an increase of 5 hp in take off, and 36 hp increase in emergency power.