Senior Member
Registered Member
Sometimes there is just no helping facepalming at Indians…

On the topic of tech transfer… the Indians are constantly giving China shit on "forced" tech transfer… yet Indians does the exact same thing but fails to learn anything as evidenced by their failure to produce anything competent "indigenously" without massive input from others, either technical or material, even then the term competent is questionable, or via "joint research programs/ventures" where such programs are no better than tech transfers…

So what is there to transfer from a standard AK anymore… the general mechanisms and layout of a standard AK hasn't changed significantly since the very first AK, apart from maybe some special models like AK 107, the production methods and materials… are Indians so incompetent that they can't even adapt modern production methods and modern materials to a decades old design, I guess not since they still require tech transfer despite basically producing an AK in the form of the INSAS for like 2 decades… tho I guess it's unfair, since they still managed to fail with the INSAS…

What's more mind boggling is that the Indians are spending time and resources developing and trailing their own designed SMGs, 2 of them in fact, and one SMG caliber in the 5.56x30… yet they are either unwilling or failed at perfecting an AK derivative, like what Israel, Poland, Czechs, Finland and Hungary managed to do at one point of another in the past, never mind all the other "non-SupaPowa" that has managed to develop their own rifles, whether they are derivatives or otherwise.

There are some serious issues with the Indian priorities… small arms is like the lowest point of entry into military production nowadays and somehow they still managed to fail with one of the simplest decades old design, then refuse to stick with it and improve it instead seeking a tech transfer for what they basically already know how to do, I mean what are they expecting from the tech transfer at this point… an AK's mechanism is already basically the simplest it can get… unless they are looking for a WW2/early Cold War era open bolt mechanism without fire selection, there really isn't anything more simple then an AK…
Exactly. How much more assistance do they need to produce AK rifles?
Tribal villagers in Darra Adam Khel, a village in Pakistan can reproduce AKs and other famous firearms from their humble workshops. And this is already happening some years ago.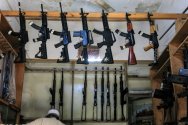 They don't need no contract, no Transfer of Technology, and no formal training. Plus, they sell their reproduced AKs cheaper than those you can buy from Russia. Quality is questionable. But how much better are those Indian factory-manufactured INSAS rifles?