Captain
Registered Member
This Research Paper looks to have been published in 2022. It looks like they are making a huge national push in the development of LPP EUVL.

The good news is that the Wuhan Uni and Huazhong Uni Team seems to have already developed a MOPA C02 Laser of at least 27kw Laser Power.
This is similar to the Gigaphoton MOPA C02 Laser which also produces 27kw of Laser Power. The Gigaphoton EUV Light Source uses a 27Kw Laser to produce Source Power of 250W.
The current Model ASML EUVL NXT3400 uses a 30kw MOPA C02 Laser and also produces Source Power of 250W.

As we can see, everything is gradually falling into place in the development of the EUVL in China.

What really slowed down the development of the EUVL for ASML in the initial stages was the search for a powerful C02 Laser and also the development of the pre-pulse technique for the illumination of the tin droplet.

It looks like a prototype of the Chinese EUVL is not too far away. The Light Source R&D would be close to completion.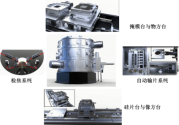 This is basically a prototype machine, it was built in 2017 and tested for 32nm. I was envisioning something like this for low volume, advanced military chip production, way better than the much slower E-Beam lithography.