Well, the focus of the article is on military revolutions -

"Any one of the three could come up with new weapons or concepts that "will change the character of warfare."

"China is highly advanced in quantum key distribution and is among the leaders" in artificial intelligence, high-performance computing, quantum information sciences, biotechnology, and advanced robotics."

Without getting into the logic of comparing prototype tanks and fighters to established models, I think we can agree that better tanks and fighters are incremental and not revolutionary improvements.
China is more advanced in things like flying drones than Russia. Sure. But Russia has army drones like the Uran 9 drone.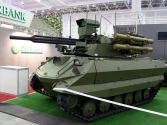 Then just like I said the Russians have systems like the Zircon hypersonic missile, or the Voronezh radars, or the Lotos satellites. What are those if not transformative? You have a kill chain which can detect surface vessels or long range missile attacks. They have weapon systems like cruise missiles and ballistic missile defenses which can counter those threats. Huge investments into systems like S-300/350/400/500 or Nudol or Buk-M3 or Tor M2 or Pantsir. Then you have huge upgrades like going from liquid (Sineva) to solid (Bulava) rockets on their SLBMs. Or the amount of changes they made on land based ICBMs like Topol -> Topol-M -> Yars. They went from Delta IV (dated and noisy) and Typhoon (hugely expensive) to the Borei/Borei-A. While US is still stuck with Minuteman III and the Ohio. Their airforce has been mostly replaced with multi-role aircraft with glass cockpits and INS/Stellar navigation. They have aircraft like the Su-35 with 3D TVC which have a datalink which can share target data among multiple aircraft. Which other country has produced and fielded a combat aircraft with 3D TVC? They (finally) put the R-77-1 in production with a large order and finally field a counter to the AIM-120C AMRAAM. Sure it ain't like China which in 30 years went from the J-8 to the J-20. But still huge leaps forward in capabilities.
Last edited: