Crew survived and tank likely got repaired like many Abrams that got hit in ammo storage. All Russian T-series turrets pop like zits when their ammo gets hit.

This is a Saudi Abrams that got repaired after it blew out its panels.

View attachment 105823 View attachment 105824

Some Abrams go back into service some may be too damage to fix but at least the crew survives.
Delusional. The atgm penetrated inside which causes the crew compartment to super heat into the temperatures required to cook off everything inside the tank.
The crew could only survive if it is a handheld older rpg type weapon which isn't supposed to deal with modern tanks.
If the turret flies off or not mostly comes down to how heavy the projectile used to hit the tank was.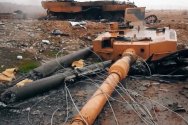 A weak point hit by the likes of Kornet or Hellfire will generally cause that more often than not.
Whereas a hit on weak points with lighter weapons will disable the tank with less major damage, so the crew can survive.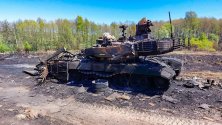 Abrams from the video had 0 survivors. Abrams from the above quoted still images probably had surviving crew. The major difference is what they were hit by.
Last edited by a moderator: