Junior Member
Registered Member
I went through the video a bit slowly and screen capped some interesting details:
First is the new optic for QBU-191.

Interesting design, it does not use a separate system in which the scope can be detached from the ring mount.
Instead it seems to be a integral system in which the scope and the mount are a single unit.
I am not familiar with these high powered scopes, so I am not sure about why they designed it like this (most high powered scopes I know in the West have the scope and ring mount as separate parts). Perhaps an integral design can make the production process easier and cheaper?(Having a separate ring mount is useful for switching to different scopes, but I guess you don't really need to switch scopes in the PLA given limited options so it is a unnecessary design)
I see 3 adjustment nobs in the front of the scope. One for windage and one for elevation, what about the third one? My assumption is that the one in the front is a slot for battery or a turn on/off switch?
This part of the scope have grooves to improve friction, which suggest to me that the magnification is adjusted in the rear of the sight by turning, which is a common design for scopes like this.
So from the looks of it, the optic has 4 adjustment mechanisms. One for windage (in the middle), one for elevation (in the middle), one for magnification (at the rear of the scope), so the most likely function of the nob in the front is to store batteries (or on/off switch).
for comparison, here is a Eotech Vudu 1-6x scope.
Translucent magazine for QBU191

I feel like we have seen quite a few variations of magazines for QBZ-191, not sure which design will be the final version to issued on a massive scale. Of course I do like the translucent one compared to more traditional ones.
These are some photos of the new optic on the LMG: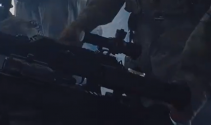 I don't see any optic fiber on this scope and it seems like a pretty simple design.
I guess it is a PLA equivalent of M145 scope?
For some reason this optic gives me a bit of the "old" or "primitive" vibe, but perhaps this basic design is chosen to cut weight.