Junior Member
Registered Member
Yes, as I said, I feel it probably is not.

That said, I am not sure if the front sight post presence itself is definitive, as the more important interface I think is that there is a six o'clock connection between the handguard and the gas block area at the barrel (which is also present on the standard QBZ-191). The front back up iron sight dovetail is a little less definitive I believe.
I updated the photo highlight below. The photo shows two screw holes on the upper side and one at the 6 o'clock position.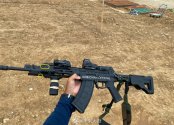 That is practically the same to the screenshot of front sight assembly from Cabbage's video (shown below), so I'm fairly certain the barrel is not free-floating.