Captain
Registered Member
I've seen quite a lot of India-originated race vs race, religion vs religion-types of posts by Jai Hinds on Twitter, like the quoted example in this Tweet.


Therefore, I'm more inclined to believe that Manipur isn't really a one-off, but one amongst the many, many other broadly similar instances that have happened all across India. The only difference? Manipur became too large to be swept under the rug by Delhi, even with internet access being cut-off in the region.
I named this thread ethnic conflict in
northeast
India cause that whole region is bomb just waiting for someone to light the fuse. With a little help from the CIA or some policy changes in China's International Liaison Department, we may see much more action.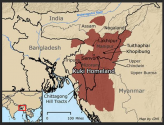 Last edited: