Senior Member
Registered Member
The previous record in truck engines was held by Weichai with 50% too.

yes this one ..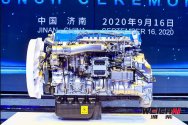 well you should visit 'Energy vehicle' thread. even our some members thinks. China is very poor in combustion engines. but the fact is, Weichai power , FAW groups and Changan Automobile are one of the leading players in this field. from V6 to V12 engines.
Changan Automobile domestically produced 2.0T engine are among the best in the industry.
Their average R&D personnel has been in the industry for more than 25 years. Finally, after 6 years, the R&D of the Blue Whale 2.0T GDI engine has been completed, which has made up for the domestic 2.0T GDI engine. Defects in the field of L and above turbocharged direct injection engines. During the development of the Blue Whale 2.0T engine, 74 patents and 24 engine patents were applied. It can be said that the most advanced technology in the world was used at that time, making the power and fuel consumption of this engine reach the leading level in the industry. Compared with joint venture cars, it has no disadvantages at all. Due to the outstanding performance of the Changan Blue Whale engine, this engine was also rated as the top ten "China Heart" engine in 2017.