...
Russia does not export more advanced engines to China
The D-30 engine is not advanced. Compared with the new-generation engine, its duct is relatively small and the fuel consumption rate is high. Russia's newly improved Il 476 transport aircraft has replaced the D-30 with a more advanced PS-90 engine. Russian media claimed that Russia has refused to export PS-90 engines to China. The D-30 is currently China's only usable turbofan engine with no afterburner bypass ratio. The US media called the localized model WS-18. Currently, China's three main combat models: Il-76, H6K "God of War", and Yun-20 are all equipped with D-30 series engines.
A lot of PS-90 engine versions cannot be exported easily. They use Western components.
The Russians have a limited production capacity for the PS-90. The D-30 engine is also a lot cheaper to produce. That is one reason why the Russians have been taking forever to manufacture the Il-76 with PS-90 engines.
Also the initial production of PD-14 engines for example was only 4 engines a year. Only recently did they open up a new modern test facility for PD-14.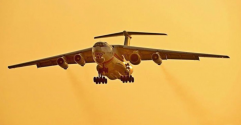 An old picture with the WS-20 on an Il-76 test aircraft.