Captain
Registered Member
海鸥 300 Noise Test in progress
Beginning on November 23, members of the research team of the Aviation Industry Flight Test Center came to Anyang one after another to carry out the airworthiness and noise test flight of the "Seagull" 300 aircraft. "Seagull" 300 is a multi-purpose light amphibious aircraft with my country's independent intellectual property rights. Although the aircraft is light, the task of airworthiness and noise test flight is heavy, because the research team has never carried out related work on propeller aircraft.
The "Seagull" 300 aircraft airworthiness noise test flight team came from the original crew of the C919 aircraft airworthiness noise test flight. This team experienced the 2013 ARJ21-700 aircraft airworthiness noise test flight.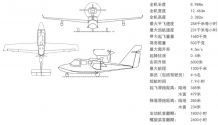 The Seagull 300 aircraft is a light amphibious aircraft jointly developed by AVIC Shijiazhuang Aircraft Industry Co., Ltd. and AVIC Special Aircraft Research Institute. The aircraft is designed with a single-pilot system and dual-control. It adopts a cantilever-type mid-upper wing, a cross-shaped tail, a high-mounted single-engine, a retractable landing gear at the first three points, and a hull layout. The independent intellectual property rights have filled the gap in the development and production of my country's light amphibious aircraft. The design and manufacturing meet the requirements of China Civil Aviation CCAR-23-R3.
The Seagull 300 has a short take-off and landing run. On land, it can take off and landing on simple runways such as cement and asphalt; on the water, it can take off and land on bays, rivers, lakes, reservoirs and other waters that are 800 meters in length, 50 meters in width, and 1.0 meters in depth, and clearance conditions permit. This machine is an ideal tool for fast and light operation and transportation on plains, water villages and remote mountainous areas with waters. Through simple modification, it can complete flight operations in tourism, teaching and training, sports and entertainment, agriculture and forestry operations, aerial surveys, aerial photography and other fields.