Colonel
Registered Member
It would be interesting to see the currently planned mission profile of Chinese Mars sample return mission. The previous tentative mission profile China published involved the use of a single huge (mass at earth departure = 30+ tons) and extremely complex probe that requires the use of the planned long match 9 rocket to lunch. If that mission profile is still current, then it means LM-9 has to be in service by that time.
A two launch mission is very much being considered for Mars sample return: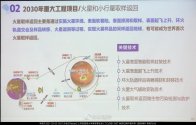 This one here for example calls for LM-3B to launch the lander and ascent vehicle while LM-5 launches the orbiter and return vehicle.