I mean, is it that different from what USN is planning to do with Zumwalt? Once the guns are removed and replaced with giant VLS?
Not really. Zumwalt was never designed with the role of arsenal ship in mind from the beginning, and thanks to the way of how she was designed, she can never be one.
To be (brutally) honest, I believe it is more apt to see the Zumwalts as the modern-day counterpart to the Courageous-class battlecruisers of the Royal Navy from WW1.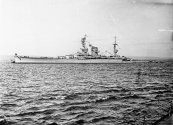 Both ship classes sounded really nice for the primary role that they were meant to fulfill (i.e. shore bombardment) - except that said role can already be conducted by other platforms that are readily available. Which means, the need for such platform becomes obsolete as soon as they are rolled out.
On the other hand, they couldn't perform their secondary roles as good as their true battlecruiser/battleship (for Courageous) and true cruiser/destroyer (for Zumwalt) counterparts without undergoing major modifications and upgrades.
For the Courageous-class, the Royal Navy eventually decided to convert all three of them into aircraft carriers, of which only one of them would survive WW2.
For the Zumwalt-class, the US Navy is left stranding with how to deploy them effectively (since surface combat is close to being an afterthought during their initial designing phase) after they got their entire class of ships gutted from 30+ to just 3. It wasn't until the 2010s when someone in DC rang the bell that Beijing is pumping out warships and hypersonic missiles that they finally decided to throw away those two empty guns on every Zumwalt, slap 12 hypersonic missiles onto each of them, and call them "naval CPS platform".
Besides, TLDR, arsenal ship is basically cramming a warship hull with fvckton of VLS cells that can launch as many offensive missiles as possible.
The Zumwalts have less VLS cells than the Burkes even with those hypersonic missiles, so the Zumwalts aren't one.
That said, if you have a large number of air defense destroyers like Arleigh Burke or 052D maybe you would want to play with such specialized ships. But if you don't maybe the resources are better spent building those.
Sure. Supposedly the USN and PLAN are the ones more justified to pursue such platforms than the ROKN. Yet, neither has shown any indication nor willingness to pursue such platforms.
Meanwhile, for South Korea's case, the arsenal ship is planned to fit 80 ballistic missiles that are meant to be targetted against North Korea in case the war resumes on the peninsular. 3 ships planned means 240 ballistic missiles in total. Essentially, they are grouping and moving ballistic missile TELs onto the sea.
Last edited: