I read Ma Weiming's paper again. "电磁发射系统中电力电子技术的应用与发展" / "Applications and Development of Power Electronics in Electromagnetic Launch System".
Found something that I did not pay enough attention before.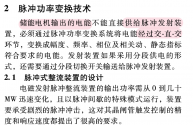 In China's EM launcher, the energy stored in the flywheel is converted from AC to DC first. Then the required AC power is generated by DC/AC conversion. This is essentially a localized DC based IEPS. In this case, the flywheel is the primary mover as GT or Steam turbine in IEPS, the DC grid is the MVDC power bus in IEPS, the linear motor is the local load in IEPS. Because EM launcher is very violent in changing load , frequency, current and voltage,
successfully operating EM launcher would be a great affirmative validation for MVDC IEPS introduction.
The idea of this design is based on the same consideration of MVDC IEPS, to decouple the primary mover's frequency and voltage/current from the demand of the load. It also simplify the controller design of the launcher because the linear motor's input is constant.
Therefor, I am thinking that land based EM launching test may be sufficient to prove IEPS's reliability before putting it in a ship, at least on a small ship that operates on low constant power level. The peak power of EM launcher is more than 100MW close to the total power of 055, much larger than 054's 27MW.
For reference, EMALS (US) design uses cycloconverter between flywheel and linear motor. It is an AC-AC conversion.
Last edited: