Moore's Law is still relevant. The transistor density keeps increasing.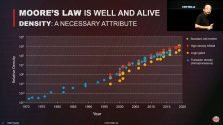 The rate of growth isn't constant. It was higher a couple decades back but the rate wasn't always that fast either. Just look at the chart.
The rate of density growth in the 1970s and 1980s was roughly similar to the past decade. It is 1992-2005 which was an aberration.
The transistors are more leaky, sure, but you still have more of them. Clockspeeds aren't increasing at the same rate.
But there are new parallel programming and hardware paradigms which make it easier to accelerate applications.
One example is GPGPU hardware architectures.
It still takes more programming effort to write such applications but it isn't impossible.