Is it like a hatch that opens when the flares/chaffs needs to be deployed and then closes when its done?
@by78 @Deino

is this a new variant of J20? I'm asking cause compare the photo below this plane had no CHAFF flaring between the tails and engine? maybe they change it?

View attachment 78147
AFAIK they can be covered in a similar way, the EOTS done under the front can be covered too.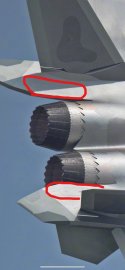 I think the cover will be blown off when deploying chaffs, then stay open. When one has to deploy chaff, it is too close, there is no point of stealth.