What's going on? Shipping charter rates are sky high. If you are a ship owner you are in a very good position, with high shipping demand.
I got some theories.
Around a decade ago, shipbuilding hit a peak and thanks to the glut, global shipbuilding started going down.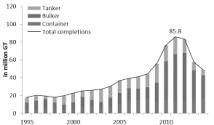 We maintained an average of 600 to 1100 ships being scrapped each year. A commercial ship has a life expectancy of 25 to 30 years. However two things maybe causing ships to be scrapped prematurely. The first is tightening 'green' measures throughout the world, especially in the EU and China. Older vessels with smokier engines either has to be refitted with 'scrubbers', but if the refit expense is too high, the ship is sent to the breakers instead. The second is the rising prices of ship scrap. This goes hand in hand with the rising prices of iron ore as steel is being sought after for manufacturing particularly in China where there is a building and manufacturing resurgence after covid. This creates a profit incentive, in sync with the cost of refitting older ships to be more green, to send ships prematurely to the breakers instead. The glut of ships after 2012 is now replaced with a shortage of ships in 2021.
Next are separate topics and news:
These are large bulkers. That's in addition to the four Waigaoquiao bulkers U-Ming ordered to be chartered to Anglo American.
Qatar is currently biggest LNG producer in the world. Various Qatar enterprises are working with Waigaoquiao for LNG carriers using the LNT A-BOX containment system developed by David Wu at Saga LNG and LNT Marine. He is currently based in Shanghai.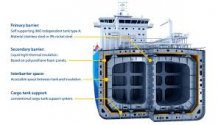 The GTT prismatic membrane type containment system has been the world's predominant LNG containment system which replaced the spherical Moss Rosenburg type.
Moss-Rosenburg

GTT (Gaztransport & Technigaz) Membrane type

LNT A-Box