Not like that. I was speculating that the new radar might be able to operate both in S-band and L-band. Thereby it would be fully backwards compatible with HHQ-9 and gain additional capability against VLO and ballistic missiles.
You would have to physically separate the L-band array from the S-band, and the L-band array itself won't be so small. Preferably something similar to the SMART-L. I don't think the 055 radar has the bandwidth to operate all the way to the L-band, and if there is need to increase its range and gain capability against VLO, it would have to be a combination of increased power, increased Tx gain, increased Rx gain, and a longer pulse + pulse compression.
Ironically, the many fan based CGI of the 055 speculating on the ship have this same idea of using an L-band. The Chinese SMART-L idea isn't grounded in fantasy. It showed up in an official model of a 052D export variant offered by CSSC and shown in a defense expo years ago. Speculation grew that it will be part of a new destroyer or destroyer variant.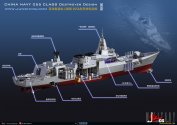 I have never seen the Chinese Navy used any L-band in their ship other than Type 518 radar which was part of the original fit for the Type 052 destroyers, the radar itself removed and replaced by Type 517 during their refit in 2012.
The first drawing on the top is funny because the artist there speculated the appearance of a dual sided radar ala SPQ-9B for a Chinese warship long before it actually happened---which it did, on a much different ship, on the Type 075.
Last edited: