General
Staff member
Super Moderator
On the PLAN Carrier Thread we had a good discussion about the only German aircraft carrier ever built, the Graf Zeppelin.
She was launched in 1938, but never completed and finally scuttled by the Germans in 1945, and finally sunk by the Russians in 1947.
While discussing it, Chuck731 reviewed her design as follows:
Chuck731 said:

Compared to contemporary ijn carrier Taiho, it was the same displacement, had 30% more engine power but was 2 knots slower, carried 40% less aircraft than the Taiho yet was less well armored and protected against air attack than the Taiho. It had the same AAA battery as Taiho but situated them much more poorly, in a way that would expose aircraft on deck to serious blast damage.

Japanese carriers 2/3 its size could carry a larger airwing and launch a more powerful airstrike, and had AA batteries matching or exceeding GZ's.

Beside comparing poorly point for point, GZ additionally were burdened with a heavy and useless antiship battery for which it carried only half the needed gun crew. Anachronistically heavily armored against surface gunfire but lightly protected again air attacks. It's elaborate trolley catapult system would almost certainly be unreliable and difficult to service in actual use. It is as if the Germans didn't really believe in the carrier and were trying to adulterate the carrier with as many surface warship features as they could.

All in all, gz is what might expect from a navy without any prior experience or much prior preparation in carrier design that nonetheless thought too highly of its own carrier design qualifications. It was probably the worst carrier design overall to actually have been built during WWII era.
Despite whatever cynicism on Chuck's part, the statements oregardin her design when compared to a Japanese carrier of similar size are true. The Germans had their reasons, but she was not a good design for classic carrier operations in World War II.
Yet the Germans had to start somewhere, and so they build this vessel...but never had the chance to use her.
Here's a short history of the Graf Zeppelin:
Short History of the German Carrier, Graf Zeppelin
The Graf Zeppelin was laid down in December 1938, launched in December 1938, had her intital air group formed in 1939 (of Me-109s and Ju-887s), but then all work stopped in 1940 on Hitler's order. This was before she completed outfitting and before any trials could be conducted.
She was towed to Kiel for a year and used as a material depot there, towed to a small warf in Stettin to protect her from Soviet attack during the invasion of the Soviet Union by Germany, and then towed to Gotenhafen.
In May 1942, after seeing the success the English and the Japanese had with carriers, Hitler ordered work started again, with the idea of completing her in 1943 and having her commissioned in early 1944. However, later in 1943, Hitelr became dis-enchanted with the Germany Navy and ordered a halt to work following January in 1943.
Thereafter she was again berthed at the back-water wharf on the Parnitz River near Stettin with a 40-man custodial crew and remained there until scuttled shortly before the Red Army took the area.
After the war, she was considered a Class C vessel (scuttled) and the Russians were supposed to float her and sink her in deep water. Butt they refloated her and used her for a time to return war goods from Germany to Russia. Then, in 1947 she was sunk in what we would call today a SINKEX, or Sink Exercise.
She made way under her own power. The Germans never had an opportunity to so much as learn a lesson from their inital design. Such was the life of Germany's only aircraft carrier, Graf Zeppelin, their Flugzeugträger. Launched in 1938...and then scutteled without ever being used seven years later in 1945.
Pictorial History
: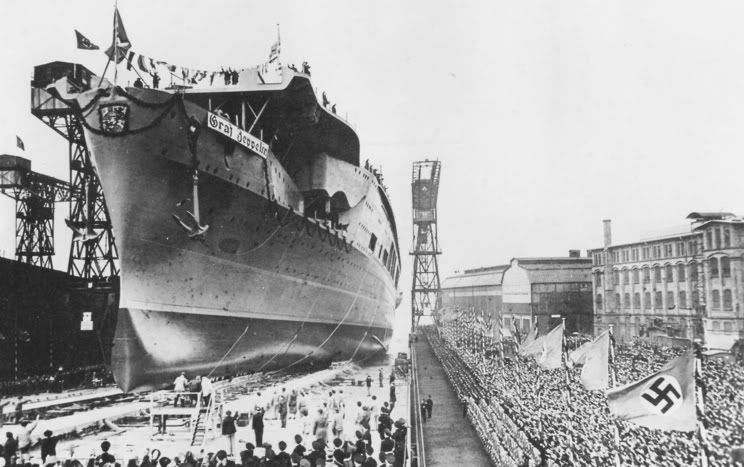 Graf Zepplin at Launch in 1938
Modified Ju-87 Stuke for Graf Zeppelin's Air Wing
Graf Seppelin moored in 1941
Graf Seppelin in dry dock, early 1943 before final stop work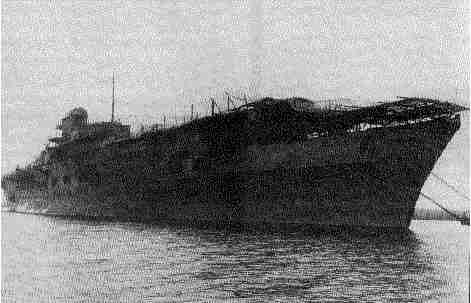 Graf Seppelin in Stettin, before being scuttled

Last known picture of Graf Zeppelin in Russian custody in 1947 at Swinemünde
​
For anyone interested, I would recommend the book, by Stephen Burke:
The Graf Zeppelin had decent specifications had she been developed, but, as stated above, for those specifications, her aior wing size was abysmal. Here are the specs she was designed to operate wioth:
GRAF ZEPPELIN SPECIFICATIONS:
Displacement: 34,090 tons full load
Length: 861 ft 3 in
Beam: 118 ft 9 in
Draft: 27 ft 11 in
Propulsion: 4 geared turbines, 200,000 shaft horsepower
Speed: 33.8 knots
Range: 8,000 km at 19 knots
Complement: 1,720
Armament:
16 × 15 cm SK C/28 guns
12 × 10.5 cm SK C/33 guns
22 × 3.7 cm SK C/30 guns
28 × 2 cm FlaK guns
Armor:
Belt: 3.9 in
Flight deck: 1.8 in
Main deck: 2.4 in
Aircraft carried: 42
- 12 Me-109 fighters
- 30 Ju-87 Dive Bombers
By comparison, the US carriers being designed, built and commissioned in this same time frame were the Yorktown class of which three were built. USS Yorktown, CV-5, USS Enterprise, CV-6, and USS Hornet, CV-8.
USS Enterprise, CV-6, 1939
​
YORKTOWN CLASS SPECIFICATIONS:
Displacement: 25,900 tons full load
Length: 824 ft 9 in
Beam: 109 ft 6 in
Draft: 26 ft
Propulsion: 9 boilers, 120,000 shp
Speed: 32.5 knots
Range: 12,500 nmi
Complement: 2,217
Armament:
8 × 5 in/38 caliber guns
4 × quad 1.1 in/75 caliber guns (Enterprise upgraded to 40 mm Bofors guns)
24 × .50 Cal machine guns (all of the ships upgraded to 20 mm Oerlikon cannons)
Armor:
Belt: 2.5–4 in
Tower: 4 inches
Aircraft carried: 90
- 34 F6F-3 Hellcat Fighters
- 34 SBD Dauntless Dive Bombers
- 22 TBD-1 Avenger Torpedo bombers
As you can see, the US carrier, despite being a smaller displacement, shorter, less beam...carried over twice the aircraft. Events in World War II for thios particular class, which were not as big or strong as the follow-on Essex class of which so many were prodiced, showed that these carriers were exremely effective and took massive beatings and punishment during combat while deliver better than they received.
Last edited: