New Member
Registered Member
The one in arabic I believe is from 2022 (290km), and the one in simplified/traditional Chinese (400km) from memory was from 2021 if not earlier.

I suspect both were export numbers, but they further downgraded the 400km to "290km" for MTCR purposes.


If we are speculating as to what the true range of the PLA version of the missile is (if it is indeed the same as FD280) then I could definitely see it achieving in excess of 400km, like 500km or even more. Though I do also note that the side profile of the missile in the official PLA image of the missile launch looks a bit longer than the FD280; it may well be a custom PLA version that might be a bit longer than the standard FD280 if the longer profile is not merely an illusion, meaning it could even be longer ranged than 500km if it is longer than FD280 while retaining the same cross sectional diameter.
So the American report posted on another thread has those range numbers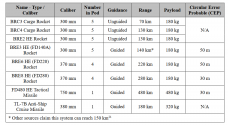 Here is how those range would look like on a map: