Captain
Registered Member
Not sure where else to post this, so I think here would do, since
@para80
quoted about this on Twitter.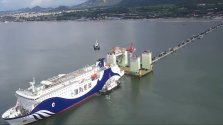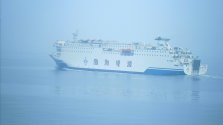 Pictures screenshoted from this video:
Roughly translated:
Landing exercise using a civilian car ferry conducted by the Chinese Armed Forces (PLA). By combining a floating dock and a floating bridge, it is possible to unload vehicles even at points where harbor facilities are not developed. It is estimated that the exercise was held around 2022 from the time the ferry was painted.
The vessel used is believed to be of the Bohai Hoju-class owned by Bohai Wandu Group (Bohai Ferry). Four ships of the same type have been in service and have been participating in the Chinese military's transport exercises for some time. The image is the Bohai Pearl of the same type ship.
Gross Tonnage: 24,024t
Total length: 163.9m
Number of cars loaded: about 260
Passenger capacity: about 1,630
Reminds of the Mulberry harbors from Normandy during WW2. Apart from the element of unpredictability (since this can be used pretty much anywhere), since proper port facilities would be off-limits during the opening stages of AR of Taiwan, equipments like these are absolutely essential for amphibious operations against Taiwanese shorelines.
Last edited: