Lieutenant General
Staff member
Super Moderator
Registered Member
Yes it does.
Do you not see the line separating the two halves of the canopy to a left and right window?
A tandem seating arrangement would be crazy because you'd have a massive opaque metal separation running down the middle of your field of view.
It is similar to the canopy configuration of the B-1.
Edit: another angle of the same CGI that was made in the same set, below. You can clearly see the canopy separation.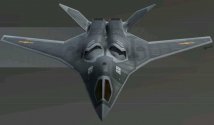 Last edited: