New Member
Registered Member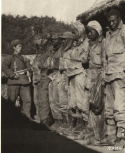 Chinese Volunteer Soldier guards African American POWs with his M3 submachine gun, Second Phase Offensive
Chinese Volunteer Soldier guards African American POWs with his M3 submachine gun, Second Phase Offensive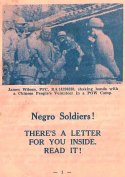 This picture shows African American serviceman, Private First Class James Wilson, shaking hands with his Chinese Communist captors. This cover is part of a pamphlet created by the KPA and PVA, Here is an excerpt of the text:
Did you ever stop to think why you should be in Korea, fighting other colored people, while lynchings, murders and insults pile up against the Negro people at home?
Since the Korean War began there have been more lynchings and killing in all parts of the country than ever before.
In the Army, less than one Negro in 70 is commissioned, while there is one white officer for approximately every seven enlisted men. In the Navy there are only two Negro officers; There are 58,571 white officers. The Marine Corps has 7,798 officers not one of whom is a Negro.
We say: No U.S. soldiers have any business in Korea for the Koreans. China for the Chinese. America for the Americans, Negro and white. Americans, black and white, unite and fight for peace.
…We didn't come 5,000 miles across the sea to fight. We didn't come to America with guns and bombs and we never will. Don't risk your lives here. Ask to go home where you can fight for your own rights as a human being. Leave us in peace in our homes here.
The leaflet goes on to report lynchings and crimes against black men both in the United States and in the U.S. Army in Korea. It discusses politics in the United States and points out how few black Congressmen and Senators hold office. It reminds the black soldiers of how few black officers have been commissioned in the military.