Lieutenant General
Staff member
Super Moderator
Registered Member
That actually does look like WS-10H, and it looks like an in service aircraft too (I suppose it could be 554 or 557 if they had repainted additional details on it)

I wonder if we will see J-15B mass produced with WS-10, if they are re-engining J-15s with it.
Again, this idea came thru my min d too but like
@Cloud_Nine_
noted, it is too blurry and hidden.
So eventually - similar to the re-engined J-10AS we've seen a few weeks ago - a hint that SAC is at least testing them. To be sure it is converting all operational J-15s to WS-10 is IMO too early yet.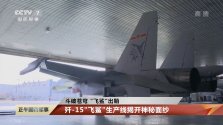 Last edited: