Junior Member
Registered Member
The following is a collection of maps, tables and quotations from publicly available sources with heavy emphasis on Government Accountability Office's report "Operation Desert Storm - Evaluation of the Air Campaign".
I divided the whole set into five posts:
air superiority over Iraq - air-to-air combat
air superiority over Iraq - surface-to-air defenses of Iraq
logistics and general data on sorties
data on ground airstrikes, effectiveness and munitions use
data on effectiveness of stealth aircraft and precision-guided munitions
It was originally prepared for a different topic but I extracted information that is relevant to any considerations of aerial conflict over Taiwan. It is a lot of data, much of it is not presented for convenience, but it is the best example of a large scale, intensive aerial campaign against a theoretically competent opponent that involved all main system families and technologies that could be used in a hypothetical Taiwan scenario except drones. I did not include data on coalition SAM performance because the systems have been upgraded and improved since then.
Some of the data shown might be contradictory as it is often gathered from different sources. Numbered tables are from GAO report.

Table of Iraqi aircraft includes data on losses - number of aircraft in the first column, share of pre-war total in the second column.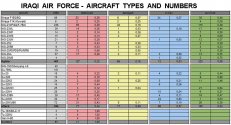 Next table shows approximate numerical comparison of aircraft by role and by radar range:

Next are maps of main targets of aerial strikes and locations of strikes on the first day of air campaign as well as diagram listing number of sorties flown by coalition on the first day:
Last is the map of Iraq with indicative range lines offset from Saudi border every 100km and indicative maximum ranges of BVR missiles carried by main fighter types - for better understanding of spatial relationships in the conflict.
continued