Lieutenant General
Staff member
Super Moderator
Registered Member
Looks very similar, this CG may produced in 2008.

In that era, it was hard to imagine the electromagnetic catapult.

View attachment 73181View attachment 73182
This just goes to show how "obvious" a "sensible" CATOBAR design really is.
The similarities between those classic CGIs (another angle below) and the real 003 as we see it, are really superficial.
Basically it just depicts an 80k+ ton CATOBAR. The only "unique" thing that is similar to 003 is that it has three catapults (but even as far back as the late 2000s, it was presumed that the first PLAN CATOBAR design would only have three catapults).
Other differences of course, include: Liaoning style island and APAR, steam catapults rather than EM cats, three elevators (rather than two), CIWS fit includes VLS, etc.
Other things like navalized Flankers, a fixed wing propeller driven AEW&C, deck configuration, etc were all just sensible educated guesses.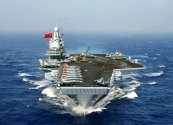 Last edited: